4 Advantages of a Brick Paver Driveway in Clinton Township, MI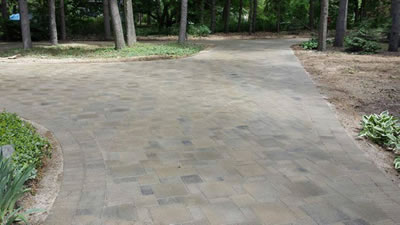 Are you looking to add some finishing touches to your property in Clinton Township? Then the driveway is a good place to start. You have a lot of options to choose from, but you can't go wrong with brick pavers.
A brick paver driveway can help make your house in Clinton Township look beautiful and sophisticated. If you want to add some personality to your property, then you'll love all of the design options available with this timeless material. Here are some of the benefits and advantages of brick paver driveways that you need to consider.
1. Brick paver driveways are extremely durable
Brick paver driveways in Clinton Township, MI are extremely tough and their strength is actually similar to natural rock and steel. Brick pavers can take a lot of abuse and still show no signs of wear and tear. You may be surprised to know that brick paver driveways are said to last for decades after installation. This kind of longevity means that you won't need to complete tedious maintenance tasks to keep your driveway in good condition.
The driveway's strength and density allow it to carry heavy loads and still maintain its integrity. From a small car to a large heavy SUV, you won't have to worry about whether the driveway can handle the weight. A brick paver driveway can easily take on thousands of pounds with ease.
2. Pavers can withstand severe weather conditions
Since we live in Michigan, that comes with freezing cold winters and hot summers, the choice of material for your driveway is even more important. Because of the changing temperatures throughout the year, a solid driveway surface can buckle or crack. But that's not the case for brick paver driveways. They're built to resist cracking and are able to handle the weather all year-round.
3. Brick pavers are versatile and can be built according to your preference
Brick paver driveways offer a lot of flexibility and versatility to boost your home's exterior. With different options available, you no longer have to choose between two or three monotonous material and color options.
The great thing about brick pavers is that they come in a wide variety of colors and textures and they can be laid in different patterns. If you want your Clinton Twp. home to have a unique feature, then brick pavers are one way to achieve that.
4. A brick paver driveway will be low maintenance
It is actually quite easy to maintain a brick paver driveway. You can simply use warm water and a mild soap cleaner for stains and marks. If the marks or stains are tough, then they can be easily scrubbed away with a dry granular cleaner. Just make sure that you don't leave any marks for too long in the driveway. With good maintenance, the driveway will last a lifetime!
For More Information on a Brick Paver Driveway Design and Installation in Clinton Township, MI
If you're looking to get your new driveway installed then be sure to check out PMS Diversified Construction. You can look forward to an amazing project built by qualified professionals. Get in touch with us today for a free brick paver driveway quote by calling (866) 786-9500.