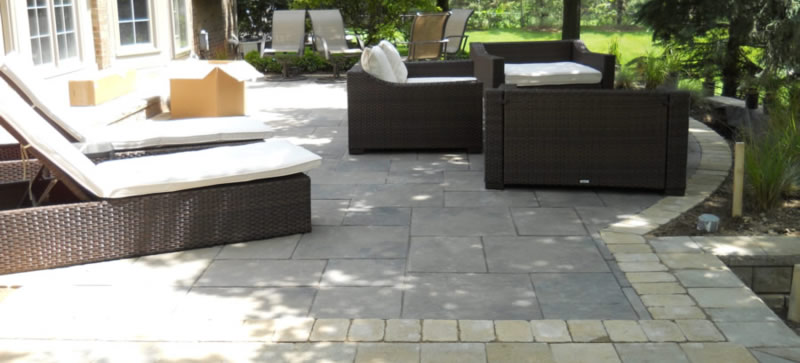 Top 5 Reasons to Use Brick Pavers
There are many different ways you can use brick pavers on a home construction project. A patio, retaining wall or walkway are all prime examples. Or perhaps you want to get a bit more intricate and use brick for a pool decking or edging. Whatever you choose, brick pavers should be considered as the go-to material in every landscape design.
But why exactly? We're glad you asked. We, at PMS  have created a top five list of benefits and reasons to use brick pavers. Enjoy!
Brick Pavers are Strong. Many people wrongly believe that brick pavers are not as strong as concrete or stone pavers. This is usually not the case, especially if they were installed properly. Most often, the strength is comparable. So, for driveways and other heavy load/trafficked areas, nothing beats brick pavers.
Pavers are Low Maintenance. Brick pavers have been used for a long time and can be found all over the world. Entire cities have been based around brick construction and look as good today as they did centuries ago. This is because they do so well with wear and tear, and are easy to maintain. At most, all it takes is a bit of detergent and a little elbow grease to clean even heavily soiled bricks and usually they can just be given a quick rinse.
Flexibility in Design. Pavers come in a variety of styles, textures, and colors from contemporary patterns to combinations of block that resemble cobblestone. Because they are made in a mold, the texture is quite malleable and can be created to mimic rounded stone or even a piece of flagstone.
Superior Protection. Research shows (and our anecdotal experience backs this up) that brick provides superior protection in three important categories. Brick does really well in terms of fire resistance. Given that it is produced at such extremely high temperatures this makes sense. Brick is such a strong and durable building material it tends to stand up well in windy conditions or storms. This is especially important if the wall of your house in made of brick. As a surface material, bricks do well to help minimize moisture accumulation. This cuts down on problems such as mold growth, wood rot and infestation by pests.
Eco-friendly. Brick pavers are a kiln-dried product made from a natural resource. No environment-polluting chemicals are used in manufacturing them. The past has shown us that areas surrounding clay-making facilities typically do not suffer environmental damage in the way many other industrial material production operations do. This means that water sources are not being contaminated and the land can be reused for something else if and when the brick shop is finished.
This list could just as easily be fifty bullet points as it is five. Brick is a versatile, affordable, strong, and flexible building material. If you are considering putting in a new patio or other hardscape addition, we highly recommend it.
Hire the Best Auburn Hills Brick Paving Company
If you are looking for an Auburn Hills brick paving company, contact PMS Diversified Construction Services today. We are located in Sterling Heights, MI and provide brick paver installations in Oakland County and throughout Metro Detroit. We would be happy to share our expertise by writing an estimate or answering a question or two.