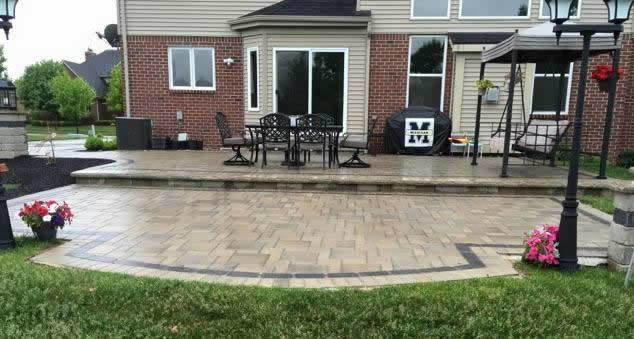 If you're planning a landscape design or simply want to shake up your existing one, then installing a brick patio can be a great idea with quite a few benefits. These benefits range from improved aesthetics to functional values. A patio can turn an unused corner of the yard into a hub of outdoor activity.
Below, we'll run through some of the positives associated with installing a brick patio and offer some food for thought:
Brick Paver Patios Improve the Look of Your Home
Brick is one building material that has a constant appeal, and it isn't really subject to trend. Some of the most beautiful homes out there are made of brick due to its classic and timeless style. Brick tends to give off an air of authenticity and exudes traditional charm. One major benefit of using brick to make up your patio is the flexibility you will have for choosing your design. Brick allows for quite a bit of creativity when it comes to arranging things.
Brick Paver Patios are Durable
One strong selling point for brick is that it is long lasting. Brick is also an extremely sturdy material making it possible to place heavy outdoor furniture on it without damage. In addition, brick pavers can withstand the wear and tear of years of use along with elemental exposure. A well crafted brick patio can be expected to last for decades.
Brick Paver Patios are Functional
A patio can be thought of as an extension of your living or rec room. The kids now have another area to play on and you have a place for a new barbeque. Throw in some patio furniture and the functional value of a patio really goes up. You then have a great place to entertain guests and relax when the weather is nice.
Brick Paver Patios are Cost Effective
Another advantage of brick is that it's affordable, generally costing less than stones. Expect to pay somewhere in the ballpark of $2-3 per square foot for the bricks. There are some variable costs beyond that, consulting with a hardscape contractor should give you a clearer idea. But in terms of value, you will get back a lot of the money you put into a brick patio.
Brick Paver Patios are Low Maintenance
Depending on whether your brick is filled with concrete or another material will go some way toward determining the maintenance required. But either way, it's going to be relatively easy. There are some simple maintenance techniques you can use such as keeping good weed hygiene in your yard and an occasional rinse of the surface. But beyond that, there really isn't much effort required.
Brick patios have a distinctive look that is hard to match with another material. Due to the benefits detailed above, a brick patio is an excellent choice for homes that already have brick utilized in their design. Continuing with the same brick will bring a sense of continuity. But even if that's not the case, a brick patio can really add a lot to a home.
Need to Install a Brick Paver Patio in Oakland County?
If you are looking for a brick paver contractor to install a brick paver patio in Oakland County, we would be happy to provide a patio estimate or to share our expertise by simply answering a question. We also install, repair and maintain brick pavers throughout entire Metro Detroit area.
Call 1-800-BRICK-PAVERS