How to Maintain Your Brick Pavers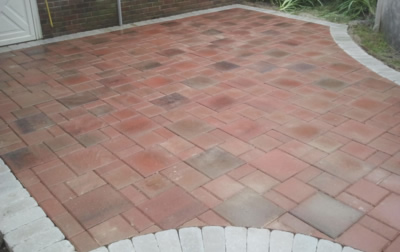 Do you want your pavers to look new? Do you love your brick paver patio or walkway, but recently it seems to be looking grim? Over time, our lovely pavers get the brunt of harsh weather conditions and foot traffic. Your pavers may be looking dirty, moldy, or faded after even just a few months. While this is a normal occurrence, at PMS Diversified, we want to prevent that from ever happening! Seasonal maintenance is encouraged to preserve the beauty of your paver installation. Here are some ways we can help you maintain and prevent damage to your pavers:
1) Cleaning Brick Pavers
Since most pavers are outdoors, they understandably get dirty over time. We have the best equipment to clean your pavers properly, before we sand and seal them. We recommend spraying the area with a hose, making sure to get in all the crevices and joints. If you have already sealed your pavers with a hard seal finish or have used polymeric sand, it is likely your pavers will need to be pressure washed, which is a great way to keep your pavers looking new! If you don't want to take the time to do this yourself, our professional paver maintenance team can clean your pavers with utmost meticulousness.
2) Sanding Brick Pavers
As a busy homeowner, you're not expected to replace the sand between your pavers. That's what we're here for. After we have properly cleaned your pavers, we are ready to sand the area. Meaning, we fill the cracks between pavers with sand, which will harden when moistened. This method prevents weeds from growing in between pavers, while also helping hold the pavers in place, preventing unevenness. Sanding is an important step in attaining a great looking patio or walkway, since it aids in the prevention of weeds and the protection of the pavers themselves.
3) Sealing and Protecting Brick Pavers
The next step, which happens to be our specialty, is the sealant. This process should be done at least every 3-7 years, depending on the amount of exposure to the sun, water pooling, weathering and damage, or amount of foot traffic. Sealing the pavers helps prevent color fading, surface corrosion, keeps the sand joints from washing out, and helps deter weeds and insects from compromising the joints. Instead of spraying on the sealer like most standard operations, at PMS Diversified, we roll it on with special equipment. This way of sealing your pavers allows for ultimate protection and long-lasting coverage. Additionally, we offer water-based sealer for natural stone or clay pavers.
4) General Brick Paver Maintenance
After we have helped your pavers look as good as new, now you will just need to do the upkeep. It is recommended to clean your pavers by spraying them with a water hose and sweeping with a bristled broom from time to time.
Looking for a Lake Orion Brick Paver?
If your pavers are in need of a tune up, get in touch with us at PMS Diversified today. We're here to help you keep your pavers well maintained and looking beautiful!
PMS Diversified construction is headquartered in Sterling Heights, Michigan and provides brick paver maintenance in Clarkston and throughout Metro Detroit.
Call: 1-800-BRICK-PAVERS