The Best Coping Material for Your Pool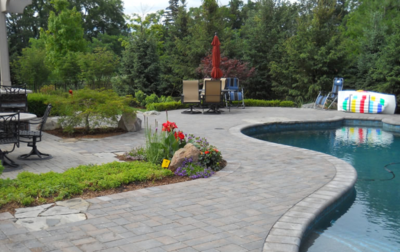 Having a pool on your property can be a godsend during long hot summer months, and in many ways, it can be one of your home's biggest assets. After a long hard work day or leisurely weekend day nothing beats a quick dip. Are you considering pulling the trigger and installing a pool in your yard? If you have the space and some funds in your budget, a pool will definitely make you more popular with your friends.
There's a lot that goes into pool design and maintenance. We won't address everything here, and rather will start with one of the small details to consider: how to best surround your pool with a paved coping.
What is Pool Coping?
Pool coping is the trimming or edging around the sides of your pool. It is also sometimes called the cap for the pool shell. There are many paving materials that can be used for pool coping, but you will need to spend some time deciding which one will be able to suit your needs and work with your specific pool installation.
A pool is a major hardscape addition and the coping is an integral part because it protects traffic entering/exiting the pool. Coping also protects the overall structural integrity of the pool and can be extended into a surrounding patio.
Concrete
Poured concrete is one of the most common choices that homeowners go for when it comes to pool coping. The benefit of using poured concrete is that the pool decking, shell, and coping can be blended into one continuous surface. There are no joints with concrete, but you may lose a bit of design appeal in some cases.
Natural Stone
Stones such as granite, slate, and limestone are some alternative materials used for pool coping. Natural stones are produced over thousands of years with natural forces forging dense and beautiful building materials. Many people rate natural stone as the most durable, flexible and long lasting material that is best for pool coping. The natural stone pavers are equipped for use next to inground pools because they are slip resistant and can be sealed (if needed) for further protection.
Additional Materials
These two categories are the bread and butter of paving materials for pool coping, however, there are a few other options which include precast concrete, aluminum for above ground pools, flagstone pavers, clay pavers, and tiles.
These materials can be a bit trickier, so it's best to discuss them with your contractor or landscape architect to ensure they make sense for your project. Each material we discussed has benefits and down falls. It's also true that everybody has different needs, so when you decide on the ideal material for your coping project, your best bet is through thorough research and clear communication with your contractor.
Need More Information on Rochester Pool Coping ?
Paver Maintenance Specialists is located in Sterling Heights, MI and services homes and businesses throughout the Metro Detroit area. If you are looking for a brick paving contractor to assist with your Rochester pool coping, we would be happy to write you an estimate, or simply share our expertise by answering a question or two.
Call: 1-800-BRICK-PAVERS