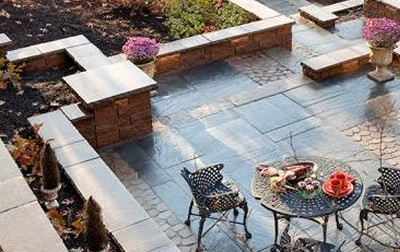 With any home improvement project there are always many choices to make. What color for the walls? What tiles to use in the bathroom? What kind of sink is best for me? No matter what area of your home you are working on or looking to improve, these options can be overwhelming. If you are looking to make some upgrades to the outdoor space around your home consider West Bloomfield brick pavers.  Brick pavers are a great way to add some unique style to your landscape, while also being a very practical way to create a new surface for your driveway, patio, or other outdoor space.
Brick Paver Installation
The first part of any new brick paver installation project is choosing the design and types of bricks you want to use. There are many types of brick pavers out there and an infinite number of ways you can arrange them, so the options really are endless. After you have decided on which direction you would like to take your project, next comes the actual installation. Things can get tricky here, so it is usually best to consult with a brick paving company. Typically, the site will be dug out for the bricks to be laid. If you are installing brick pavers into a patio setting, usually digging about 7 inches will do the job. If you are making a driveway out of brick pavers, it is necessary to dig a little deeper in order to properly support vehicle traffic.
Brick Paver Maintenance
After your brick pavers have been installed, it is smart to consult with your brick paver contractor about a maintenance plan that will keep your brick pavers looking as good as the day they were installed. The most important aspect of any maintenance plan, if not the only, is making sure your brick pavers are sealed. After your brick pavers have had about 6 months to set, an initial coat of sealing solution should be applied to make sure everything stays as it should. After that, your brick pavers will need to be resealed every few years depending on how much exposure they get.
Brick Paver Repair

If something was to happen to your brick pavers, repairs are relatively straight forward. Unlike concrete which is poured all at once, brick pavers can be repaired one by one as needed. If brick pavers are installed incorrectly or are exposed to a lot of wear and tear, they may become uneven. If this occurs and the brick pavers themselves are still in good shape, your repair may be as simple as adding some sand under the section and resetting the brick pavers. It is wise to consult with a brick paver contractor since their years of experience will help them to know the right repair method for your specific case.
Looking for West Bloomfield brick pavers?
Now that you have an overview of how brick pavers can be used to enhance your outdoor space, it is time to get in touch with West Bloomfield brick pavers. PMS Diversified Construction, headquartered in Sterling Heights, provides the best brick paver installation and maintenance service in West Bloomfield and throughout Metro Detroit.