How Brick Pavers Can Improve Your Landscape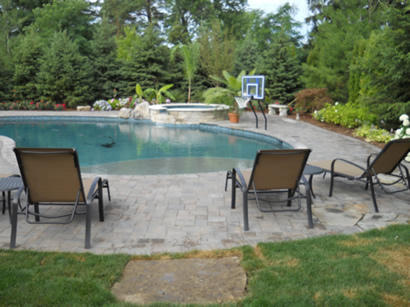 As you are driving through your Huntington Woods neighborhood this summer, take some time to look around at the landscapes of the familiar homes you have seen hundreds, if not thousands, of times. If your neighborhood is like most, you can find many landscapes are a bit lacking in decorative detail. However, every now and again, you will find a home with a truly unique landscape that catches your eye. This could be because of the well-manicured shrubs or because of a unique brick paver design. Many homeowners tend to overlook the unique flare brick pavers can give to their yards. These versatile building blocks can be formed into an infinite number of designs and while they can be used countless ways, here are some of the most popular to consider.
1. Around the Pool
If you happen to own a pool it is no doubt one of your favorite features of your home, while also one of the most time consuming! With all the work that comes with maintaining a pool, doesn't it make sense to put some thought into the space around it? With so many pool areas made of single colored concrete, making a pool patio out of brick pavers can bring a much-needed update to your pool area. Be careful though, you may have some jealous neighbors coming to take a look and a swim!
2. On the Driveway
If you don't have a pool (and even if you do), the driveway is the next most common place around your home to be made from single-tone concrete. If you are looking to stand out around the neighborhood, having your driveway made from brick pavers is a great idea. With brick pavers, you can keep the style simple and classic, or introduce colors to make it really pop. With a unique driveway like this, you are sure to have traffic slowing down as they drive by to view your home's grand entry way!
3. A Patio of Pavers
If you would like to add some character to your landscape without adding a whole new driveway, making a patio out of brick pavers is a great way to go. With all the time spent outside with family and friends during the summer, it can be really rewarding to make sure your outdoor space is as welcoming as possible. Brick pavers offer a durable, versatile, and affordable solution to an outdoor surface space while still allowing you to give it your own special twist. An added benefit of using brick pavers for your patio is you can expand the area pretty easily as your family grows. A task not so easy if you go the concrete route!
Hire the Best Huntington Woods Brick Paver Contractor
These are just three of the many ways brick pavers can be used to add some character to your outdoor space, while still remaining practical. If you are looking for an experienced Huntington Woods Brick Paver, contact PMS Diversified Construction today.
We are headquartered in Sterling Heights, Michigan and provide brick paver installation and maintenance throughout Metro Detroit.
1-800-BRICK-PAVERS