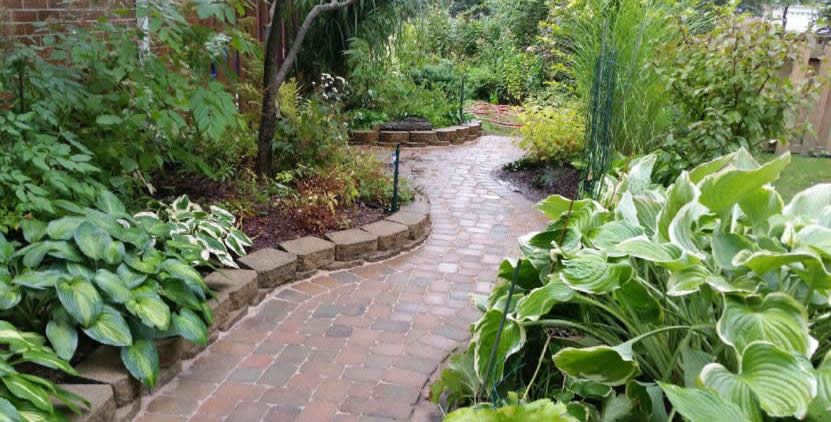 Brick pavers are made from very versatile material, and their use need not be limited to the most traditional ones. At Paver Maintenance Specialists, we encourage our clients to use them to create decorative edgings along driveways, walkways, patios and even flower beds.
Brick paver edgings can add visual appeal and practical value to your home. Below, we've created a shortlist of some benefits, and best uses of brick paver edgings.
1. They add to aesthetics. There is no denying that a thoughtfully arranged border of bricks can create a handsome boundary along the edge of a path or driveway. And in the case of a flowerbed, it can be a clean looking division between lawn and dirt. Brick pavers can make an elegant edging material for a formal style, but work well in a casual environment as well. Without edgings, a brick paving surface can look incomplete or, at worst, bare. When done properly, an edging can be the finishing touch on a well curated hardscape.
2. They create a natural barrier. Another benefit of adding brick edgings to your design plan is they offer the functional value of a natural barrier. In the case of a driveway, they offer a guideline for drivers to follow. Especially if slightly elevated this can help you avoid scratches and dings to your car. In the case of a pathway, they (especially when set in concrete) create a shield from grass or weeds that may encroach. And for flower beds, brick pavers can make edging the lawn easier. You can run the wheels of a push mower right on top of the edging and pretty much dispense with the weed whacker or trimmer. Given the even level of the edging, this will give your cut a nice consistent look.
3. They help to control drainage. Another feature worth mentioning is that brick edgings can control water drainage. Not all, but in some circumstances a protective barrier against erosion or unwanted rain water can be invaluable. This is generally achieved by installing a machine curb or edging on the side of the driveway/path. Machine curbs are generally formed from asphalt, and using brick pavers in lieu of asphalt can achieve the same result while looking much better. A homeowner that has unwanted drainage or silt erosion from a neighboring property can stop it by installing an angled edge or curb.
Decorative edges add aesthetics and beauty to a home. A properly installed edge can offer quite a bit of functional value as well. It's certainly not required to install edgings with a brick paver surface, but there are many reasons to consider it.
Contact an Oakland County Brick Paver
If you are in need of an Oakland County Brick Paver, Paver Maintenance Specialists would love to help you. If you are looking for a contractor for a patio or any other project, we would be happy to write you an estimate, or simply answer any questions you may have.