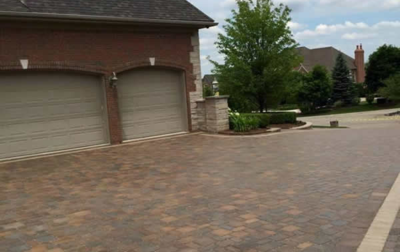 Concrete is the common choice for driveway construction. After all, it seems like the cheapest and most practical option. However, there are plenty of advantages that come with having a brick paved driveway. It's not just better for your wallet, it looks great too. Concrete doesn't allow room for creativity and can be financially stressful in the long run. It cracks apart due to weather changes and once those cracks set in, weeds and unwanted pests will most likely make that opening their home. Compared to brick paved driveways, concrete doesn't even come close.
Here are three advantages to having a brick paved driveway:
1. Brick Paved Driveways Have Greater Durability Than Concrete
Brick is tougher than concrete. That's the main reason why brick paving is a system that has lasted for centuries. They are already built tough, so imagine them laid on a bed of gravel or sand. They will then be embedded into a position where it interlocks with other bricks. This system reinforces itself, which means every day when you pull into your driveway, the weight of your car is evenly distributed. With concrete, the weight may be focused on a single area and this can lead to damage. Brick paved driveways are the most functional method of supporting the weight of heavy vehicles and enduring it for years to come. Any cracks that you see in concrete driveways won't even be a thought if your driveway is paved with brick.
2. Brick Paved Driveways Can Handle Weather Changes
Michigan has a good number of rainy days and a good amount of humidity. Michigan weather is also very unpredictable and fluctuates constantly. Concrete displays a certain vulnerability when it comes to changes in the weather and a good amount of precipitation. Brick paver driveways can handle water and the weather. As stated before, brick is laid on an even bed of gravel or sand and then interlocked with one another. The water sinks between each brick and is then absorbed by the bed it's laid on. This way, water will not do as much damage on the bricks if the water sits too long or freezes. Brick is the most efficient way to bring cracking and splitting to a minimum, unlike with concrete.
3. Brick Paved Driveways are Lower Maintenance
Taking care of your brick paved driveway is an easy task. Due to the humidity in Michigan, the worst you'll see on your driveway is moss. This can be easily removed with pressure washing or even a broom. If any damage appears on your driveway, like the sand or material between the bricks decreasing, it can be easily replaced with the right material and a soft broom. A professional can have that taken care of in no time at all. On a concrete surface, fixing cracks can lead to the entire driveway being redone. That's an expense you don't want to deal with.
Need to Hire a Royal Oak Brick Paver Contractor?
See the advantages for yourself. If you're ready to enjoy the benefits of a brick paver driveway contact a Royal Oak brick paver contractor like PMS Diversified Construction.
PMS is headquartered in Sterling Heights, MI and services homes and businesses throughout the Metro Detroit area. Give us a call today!
1-800-BRICK-PAVERS